The 5th Japan-Peru SATREPS Workshop
Date:
March 6th, 2014(Thu)
Venue:
Campus Innovation Center, Tokyo, Japan
Overview:
The Fifth Japan-Peru Workshop on Enhancement of Earthquake and Tsunami Disaster Mitigation Technology was held on March 6, 2014 in Tokyo, Japan. About sixty participants attended the workshop including 13 delegates from Peru and 8 delegates from other Latin America countries.
The workshop started by the welcome address by Prof. Fumio Yamazaki, Japanese PI of SATREPS-Peru project, followed by the opening address by His excellency Mr. Elard Escala, Ambassador of Peru to Japan.
After the introduction of participants, group discussion was held by each group on the progress and future paln of the project. Presentations on the summary of group discussion were given in the afternoon. At the end of the workshop, stakeholers gave comments on the progress of SATREPS Peru project.

Activities Report:
Photos: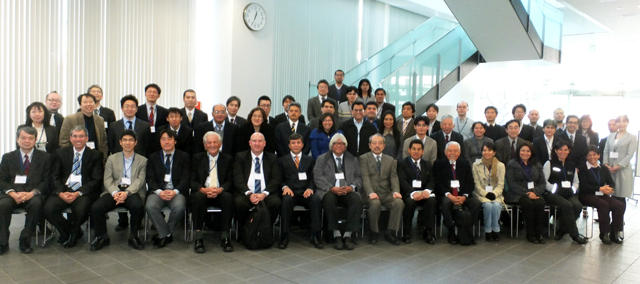 photo 1. Group photo
photo 1. Prof. Yamazaki(Chiba Univ.)
photo 2. Mr. Elard Escara,
Ambassador of Peru to Japan
photo 3. Group 1 meeting
photo 4. Group 2 meeting
photo 5. Group 3 meeting
photo 6. Group 4 meeting
photo 7. Group 5 meeting
photo 8. Group of Colombia & Latin America meeting
photo 9. Presentation by
Dr. Aguilar(UNI-CISMID)
photo 10. Presentation by
Prof. Yamanaka(Tokyo Tech.)
photo 11. Presentation by
Prof. Koshimura(Tohoku Univ.)
photo 12. Presentation by
Dr. Zavala(UNI-CISMID)
photo 13. Presentation by
Prof. Saito(Toyohashi Univ. of Tech.)
photo 14. Presentation by
Dr. Estrada(UNI-CISMID)
photo 15. Presentation by
Dr. Bisbal(INDECI)
photo 16. Presentation by
Prof. Murao(Tohoku Univ.)
photo 17. Presentation by
Prof. Kumagai(Nagoya Univ.)
photo 18. Workshop Snapshot
photo 19. Ms. Doi(JICA)
photo 20. Dr. Pique(UNI)
photo 21. Dr. Woodman(IGP)
photo 22. Dinner party at the Peruvian Embassy in Tokyo

プログラム:
10:00-10:30
Opening
Prof. Fumio YAMAZAKI, Chiba University
Mr. Elard ESCALA, Ambassador of Peru to Japan

10:30-12:20
Group Meeting
Group 1
Seismic motion and
Geotechnical

Group 2
Tsunami

Group 3
Building

Group 4
Damage Assessment

Group 5
Disaster Mitigation Plan

Colombia &
Latin America

12:20-13:30
Group Photo, Lunch
13:30-17:00
Presentation on the progress of the project
13:30-15:00 Session 1
Chair: Dr. Koichi KUSUNOKI, Yokohama National University

Group 1
Dr. Zenon AGUILAR, UNI-CISMID
Prof. Hiroaki YAMANAKA, Tokyo Institute of Technology
Group 2
Prof. Shunichi KOSHIMURA, Tohoku University
Group 3
Dr. Carlos ZAVALA, UNI-CISMID
Prof. Taiki SAITO, Toyohashi University of Technology
15:00-15:30
Coffee Break
15:30-17:00 Session 2
Chair: Dr. Gaku SHOJI, University of Tsukuba

Group 4
Dr. Miguel ESTRADA, UNI-CISMID
Group 5
Dr. Alberto BISBAL, INDECI
Prof. Osamu MURAO, Tohoku University
Colombia
Prof. Hiroyuki KUMAGAI, Nagoya University
17:00-17:30
Comments from Stakeholders
Ms. Yuriko DOI, JICA
Dr. Javier PIQUE, UNI
Dr. Ronald WOODMAN, IGP

17:30-17:40
Closing